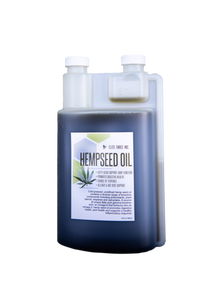 Made In Canada!
LOVE offering this product for our canine clients.  A sure bet for improving coats, shedding and it may make a difference with various skin issues. 
Cold-pressed, unrefined hemp seed oil contains a diverse range of bioactive compounds including antioxidants plant sterols, terpenes, and salicylates. A source of unique fatty acid, gamma-linolenic acid, and an omega-6 that behaves like an omega-3. Hemp seed oil promotes digestive health, joint health, and supports a healthy inflammatory response. GLA is beneficial for skin health and digestive health.
+ Fatty Acids Support Joint Function
+ Promotes Digestive Health
+ Source of Terpenes
+ Allergy & Hot Spot Support
Unique forms of Omega 3 Omega 6 & Omega 9
Great for Skin & Coat Health
May help to Reduce Dandruff
Gamma Linolenic Acid not commonly found in other oils  regulates inflammation for joint health
Easliy digestible & aids in absorption of nutrients
Cold pressed and not prone to rancidity or oxidation
Highly palatable
Elite Three Hemp Seed Oil is pressed from hemp seeds grown in Canada and is non-GMO, herbicide-free and pesticide-free. It is ideal for canines at all stages of life, but particularly those facing the stresses associated with training and competition. Elite Three Hemp Seed Oil helps to ensure health and well being in all canines.