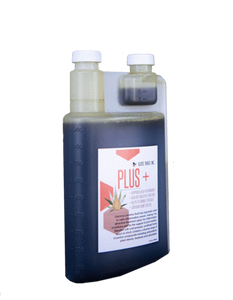 Made In Canada!
LOVE offering this product for our canine clients- especially our health-challenged dogs, and elderly dogs.  The Plus Oil for Dogs is a super anti-inflammatory! 
Gamma Linolenic Acid has long been used to calm inflammation overall, making it an attractive treatment option for inflammatory conditions, and for the support of joint mobility. Blended with cold-pressed, unrefined hemp seed oil which contains a diverse range of bioactive compounds including antioxidants, plant sterols, terpenes, and salicylates. Elite Plus + promotes digestive health, joint health and supports healthy inflammatory response.
+ Supports High Performance
+ Healthy Digestive Function
+ Helps to Combat Stresses
+ Contains Hemp Seed Oil
Key Benefits
Our highest concentration of Gamma Linolenic Acid
Gamma Linolenic Acid not commonly found in other oils which regulates inflammation and increases mucus in the GI tract.
Unique forms of Omega 3 Omega 6 & Omega 9
Easliy digestible & aids in absorption of nutrients
Helps lower heart rate in active dogs
Increased Stamina & Faster Recovery
Increases Mental Focus
Natural bronchiodilator & expectorant for respiratory health
Cold pressed and not prone to rancidity or oxidation
Highly palatable
Improves body and coat condition

INGREDIENTS

A proprietary blend of cold pressed cannabis sativa not less than 15ml, Borago officinalis seed oil not less than 7.5 ml with natural flavor. All-natural, gluten-free, non-GMO, no-sugar added, certified organic formula! Guaranteed fresh.