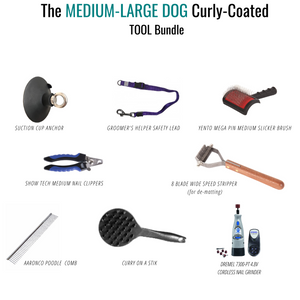 TOP ROW FROM LEFT TO RIGHT 
Aaronco Suction Cup Anchor: In the course, I teach how to use this handy device in both the bathing and finishing area. The purpose of the anchor accomplishes three things:
1) Safety of the dog
2) Your safety
3) The anchor along with the safety lead provides the dog with a message there's a job to be done
Groomer's Helper Safety Lead
This is our long-time favourite - in fact, it's the only lead we use in our busy salon. Made of strength with nylon and safety adjustments that are second to none. 
Yento Mega Pin Medium Slicker
This is the perfect brush to use to line-brush in the finishing space. The loner pins enable you to brush through the heavier coat to the skin level. I teach how to properly handle this brush so it's a gentle, pain-free experience for the dog in the course.
MIDDLE ROW FROM LEFT TO RIGHT 
Show Tech Medium Nail Trimmer
This nail trimmer is strong and ready for nails on medium-large dogs.
Show Tech Speed Stripper (8 Blade)
This tool will splice through a mat, creating smaller pieces to work on.
BOTTOM ROW FROM LEFT TO RIGHT 
Aaronco 9" Poodle Comb
Don't underestimate the value of the comb! In the course, I teach this tool is your "judge and jury"! If the comb can't glide through 100% of the dog without jamming- you have more work to do!
Curry On A Stik
A favourite for so many reasons! We use this tool in both the bathing and finishing spaces. This tool is excellent at: 
1) scrubbing shampoo into the dog
2) carding (pulling out undercoat)
3) massaging the skin
4) dogs love it!
Dremel Nail Grinder
This grinder is strong enough for the toughest nails.