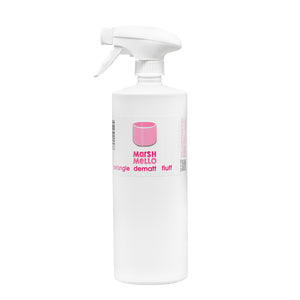 Slippy Plant-based Detangling Spray! Pro* Size
t's the Detangling Spray the Dog Groomers Use!  Natural Plant Extracts Create the 'Slippyness' You need to Detangle!

YES-it smells like marshmallows! 
We never use Silicones!  The slippyness comes from Plant Mucilage.
Spray it in and allow the plant extracts coat the fur/hair.  Slip and work your slicker brushes, pin brushes and combs through tangles-making it easier on You and your Pooch!
MarshMello Dematt leaves her fur Soft, Smooth and Lustrous from the inside out.  The shine is from natural Babassu oil and Shea-not** silicones!
17oz. size Pro size for in-home use too!  Fits comfortably in hand, spray in liberally-directly into matts

!
Spray in; leave in dog's coat about 30 seconds to fully absorb.
Brush lightly in direction you want to do de-matting and detangling-to point all the fur in same direction.
Then use brushes, wide tooth comb or other tools to dematt.  Start at ends and work your way up.
Remember you can use your MarshMello to Fluff-Dry too with your hair dryer.  Keep it in the fur while you dematt, rinse away or hand-dry to fluff it up!

RINSE away following in the bath.  It feels a bit more 'viscous' than old style silicones, so you want to rinse after detangling.  Rinses perfectly clean-no residue!
Pro Tip

*:  Groomers--Use your HV velocity dryer with marshmello dematt in* the coat, to push apart thick areas.  Point nozzle directly into or at base of fur.  Move rapidly back 'n forth.  Watch the fur fly!
Your Marshmello's full ingredient list: Marshmallow root, Aloe, Keratin, purified water, emulsifier (polysorbate 20-plant derived), Plantago psyllium, Citric acid, Potassium sorbate, Sodium Benzoate (both food grade preservatives), guarano bean and fragrance.  No Silicones!  PLANT-BASED!
MarshMello was trade secreted originally but as of Mar. 5th, 2017 we went full disclosure on ingredients!  :)