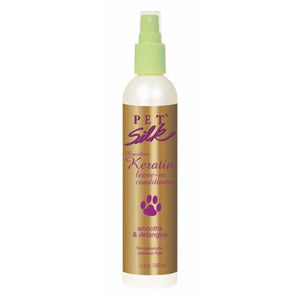 Description
Find a little hair care inspiration from Brazil with Pet Silk Brazilian Keratin Leave-In Dog & Cat Conditioner. This leave-in formula features keratin protein that's designed to repair, strengthen and protect your pal's coat from the inside out, creating stronger hair for a healthier, more voluminous look. Silk amino acids and vitamins gently restore hydration and add natural shine and softness, infusing your furry friend with a dose of confidence! To use this conditioner after a bath simply spray, brush, and your best bud is good to go, there's no rinsing required! The frizz-eliminating remedy helps to reduce shedding by removing dead, excess hair that can typically weigh your pet down.
Key Benefits
This conditioner requires zero rinsing, simply spray the leave-in formula on your pet's coat then brush it through.
This remedy is made with keratin proteins that are made to strengthen and repair your pet's dry, lack-luster coat.
Features silk amino acids and vitamins that add incredible shine and hydration.
Designed to reduce shedding by removing excess hair.
This product can be diluted up to 16:1.