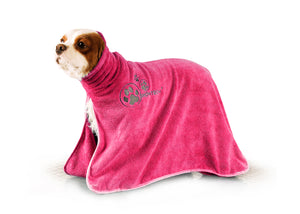 The new Dry Dude is a revolutionary aid for groomers and breeders. Made from high quality micro-fibre the Dry Dude has an elasticated neck band and is worn by the dog after bathing. The dog's feet fit into pockets which keep the dry dude in place. The highly absorbent micro-fibre soaks up the water from the dog's coat, thereby speeding up the drying process. Essential for busy grooming salons. 
S = length max. 32 CM, H: 31 CM
M = length max. 44 CM, H: 36 CM
INTERMEDIATE =  length max. 52 CM, H: 46CM
L = length max. 60 CM, H: 56 CM
XL = length max. 75 CM, H: 73 CM
Length from neck to tail, height from shoulder to ground.