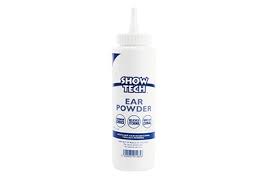 Dry ears are important for proper cleaning and also for plucking excess hair. With the Show Tech Ear Powder, both grooming tasks become a piece of cake. 

Powder up 
This fantastic product has been designed specially to help grip and remove excess unwanted hair from the ear canal. By making the hair in the ear dry, the plucking experience becomes much easier for the groomer and less painful and therefore more pleasant for the dog.  
To give your dog clean ears, it is important as well to make and keep them dry. Bacteria love a wet, moist environment. The Show Tech Ear Powder dries the ear canal and thus prevents bacteria growth. It alleviates itchy ears and irritations which aren't caused by parasites. Unpleasant ear odours are also a thing of the past. As a result, your four-legged friend is less likely to get ear infections and develop other ear problems.  
In short, an indispensable product for every dog groomer, breeder and owner! 


It's all in the details 
Ideal for ear plucking (epilation and removal of excess hair in and on the ears)

 

Helps prevent bacterial growth

 

Dries the ear canal

 

Eliminates ear odors

 

Relaxes ear irritations and itching

 

Ingredients 
Silicon dioxide, Boric acid, Iodoform