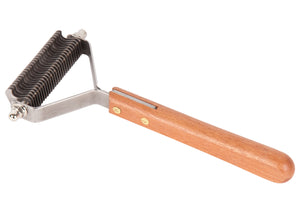 Cat Groomers LOVE This One Too!
Speed Strippers remove loose hair and thin out undercoats quickly and easily. Specially designed curved blades are made of hardened stainless steel with rounded ends for safety and are securely mounted into comfortable wooden handles. Strips coats cleanly and effectively, leaving coat and skin shiny and healthy.
Instructions for use: Gently Comb the coat with the Speed Stripper in the direction of the hair growth using a light stroke, repeat if necessary. Warning: This is a very sharp tool, children should not be permitted to use the Speed Stripper. Must be used with caution near skin folds, skin edges, nipples, dew claws, genitals, ears, base of hind legs, eyes and any other sensitive areas.