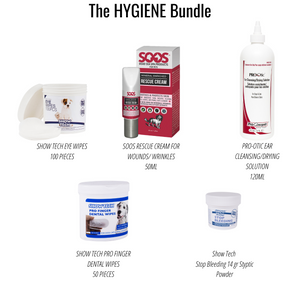 Bundle Items
Top Row Left To Right
Cleansing moist eye wipes with aloe vera extract
Specially developed to easily and quickly remove dirt from around the eyes
Ideal for sensitive eyes as the soft formula does not irritate or sting
Suitable for dogs, cats and small pets
May be used daily
Packed in a handy, resealable container
Contents per container: 100 pieces
Diameter of 1 round wipe: approx. 5.5 cm
Soos Rescue Cream
100% NATURAL: Soos Natural Mineral Enriched Rescue Cream is made with 93 different natural remedies to stop the pain, create a protective barrier and prevent infection of Dogs and Cats. You will be amazed at how fast the injury heals. It absorbs immediately. It's also safe a great for human use! We use it on all our cuts and scrapes
PRO-Otic Ear Cleansing/Drying Solution for dogs and cats contains a solubilizing base with aloe vera and is specifically formulated to deodorize and clean the external ear canal of dogs and cats.
Bottom Row Left To Right
Show Tech Dental Wipes
Dental wipes with peppermint for clean teeth and fresh breath. Control gum disease and bad breath by regularly cleaning your pet's teeth with convenient, easy-to-use disposable dental wipes. Contains baking soda to help remove harmful plaque and germs around and between pet's teeth. Pack of 100 round (5,4cm dia.) wipes.
Show Tech Stop Bleeding Styptic Powder 14g
Apply a pinch of styptic powder to the bleeding area, using moderate pressure until bleeding stops. Do not use in deep wounds, body cavities or burns. If bleeding does not stop, consult a veterinarian.