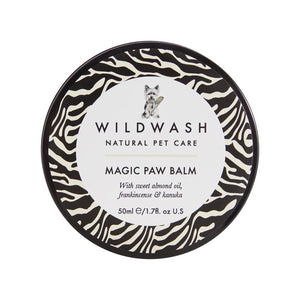 WildWash Magic Paw Balm with Sweet Almond Oil, Frankincense and Kanuka is a super conditioning paw treatment that will moisturize your dogs' cracked, dry and rough paws and help form a barrier to protect them from everyday wear and tear. It is great for use in extreme weather conditions and affords protection against; hot pavements, road grit, ice and salt. This wonder product can also be used to moisturize nails, dry noses and condition calloused elbows and dry patches. WildWash Magic Paw Balm contains natural human-grade ingredients and is completely safe for your pet to lick. This balm is also safe for cats too!
WildWash Magic Paw Balm has been hand blended with carefully chosen ingredients to help give comfort to your dogs' paws.
It contains Sweet Almond Oil, which is extremely rich in Vitamin E, a perfect moisturizer that is easily absorbed into your pets' pads, Frankincense a well-known skin tonic and Kanuka, which was originally used by the Maori people of New Zealand to help with skin health.